This weekend I have travelled around the South Coast seeing family. I was on my way down to Devon for my (non-maternal) Grandmother's Birthday Celebrations, a nice sit down meal at Exeter Golf Course which was lovely and nice to see her side of the family which I haven't seen since a similar gathering 10 years ago.
It was also nice to get to go somewhere to wear my new dress that I made this week (photos to come soon).
On the way down there we stopped in at my Grandparents near Poole, whilst there a was tasked with helping Nan move some stuff in the spare room during which we uncovered a box with sewing patterns (and one with knitting patterns that apparently got back to the 20's but we didn't open that one this time!) when sorting through the sewing patterns I found a few interesting ones which I ended up going home with 🙂
Welcome to the Pattern Stash
Simplicity 7786
I thought the jacket (minus the pockets) looks quite a lot like the one that I have recently bought and that it is simple enough to try as a basic pattern and the trousers look nicely office like. I would probably leave out the lovely crease down the front.
Butterick 5981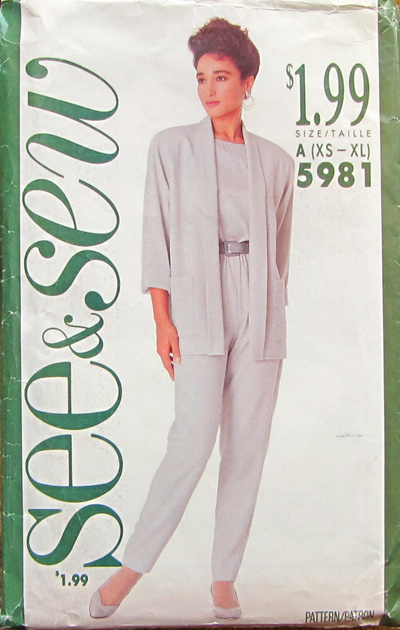 Another simple jacket pattern which looks like it could be nice for an over jacket, I might have to combine the tailoring of the previous pattern to make it a little less boxy, but I like the collar. I would probably avoid the elasticated waist trousers though.
 Simplicity 6773
This is probably going to be the first pattern that I make up from this haul as I have recently come to love big wide (crazy) trousers but can't seem to be able to find any in a plain fabric ie not a crazy print, and would like some more plain ones. I just need to look for a light and floaty fabric now… Shame…